A random ground I've been to:
SOUTHAMPTON (St Marys)
(This will be changed from time to time, and could be anywhere)
~~~~~~~~~~~~~~~~~~~~~~~~~~~~~~~~~~~~~~~~~~~~~~~~~~~~~~~~~~~~~~~~~~~~~~~~~~~~~~~~~~~~~~~~~~~~~~~~~
My name is David, and welcome to my page featuring my Football grounds/stadiums I've been to, both in the UK and overseas.
The grounds I like to visit are from the Premiership and Football League clubs, Welsh Premier League, Scottish Premier League and Football Leagues, and also Football Leagues from overseas
I also visit Non League grounds (from around the UK) and "Lost Grounds" - Sites of old football grounds, which were once the home to League clubs*, but now either no longer there or just a mere shadow of their former self. Sites where the fans once stood, and where the cheers of the crowds, once loud and vibrant, have now become just a distant memory and have gone in the mist of time..
(* League - as in English Premier, Football League and Nationwide Conference, Scottish Premier and Football League)
On my travels around, I aim to get to as many football grounds as I can. I take in grounds from the:
English Premiership
English Football League
Welsh Premier League
Scottish Premier League
Scottish Football League
Overseas League Grounds
(I also like to take in visits to non-league grounds - See my Non League football: Grounds page)
Before anything else, a thank you. I'm not always able to get to a match, but it is nice to visit them all the same
Can I take this opportunity to say a big thank you to the various people at different clubs I have visited in the past, who have shown me such warm hospitality. It always makes a ground visit so enjoyable and leaves happy memories. I appreciate it very much.
CAN I RECOMMEND THESE EXCELLENT SITES

The Wycombe Wanderer
http://footygrounds.blogspot.co.uk
An excellent site, created by my good friend and Wycombe Wanderers fan, Russell Cox, featuring all the grounds he has visited.
GTFC Nathan
http://gtfcnathanblog.weebly.com/
Young Grimsby Fan Nathan goes every game home and away - this blog tells of his times watching the Mariners
Football Grounds & Reviews
http://footballgroundsandreviews.blogspot.co.uk/p/home.html
My good friend Kieran has recently started up his blog, and details his football visits as a Grimsby fan and Groundhopper
Football Ground Guide
http://www.footballgroundguide.com/
An excellent site - an invaluable source of information on grounds, league and non-league.
Ryan 147
http://ryan147.com/

The site that inspired mine, Ryan tells of his trips as a Chesterfield FC and Snooker fan
100 Football Grounds Club
http://100groundsclub.blogspot.co.uk/
Long time hopper Shaun, a Gateshead and Newcastle fan tells, of his footballing and beer visits.
Where's The Tea Hut
http://wherestheteahut.blogspot.co.uk/
Uwdi speaks about his football trips in the North West of the UK, with emphasis on the Tea Hut.
Groundhopping The Globe
http://phildanmatt.weebly.com/index.html
The groundhopping trio's visits to grounds all over the world, mainly UK, Belgium & Holland
Phil's 92 Tour
http://2philstour.webs.com/
Hops of the 92 Football League grounds and beyond.
Pie & Mushy Peas
http://pieandmushypeas.blogspot.co.uk/
Detailing hops going back many years, this site has some great photos too
Gibbos 92
https://gibbos92.wordpress.com/
Atherton Colls & Bolton fan Joe, tells of his visits, with a nice touch of humour
Football, Wherever it may be
https://laurencereade.wordpress.com/
Serial groundhopper Laurence writes about his footballing visits, as long as there is grass and 2 goals, he is happy
Up for the Cup
http://facupgroundhopper.blogspot.co.uk/
FA Cup Groundhopping
The Real FA Cup
http://therealfacup.co.uk/
Excellent site, with great articles on the FA Cup Qualifying Rounds
Tim's 92
http://tims92.blogspot.co.uk/
Wolves fan Tim writes about his hops to mainly Midlands clubs
Grounds For Concern
http://hoppysnaps.blogspot.co.uk/
Mishi's Ground Photos & Blog
Modus Hopper Random
http://modushopperrandom.blogspot.co.uk/
Graham Yapp's excellent blog, where he uses a variety of random methods to pick his games
The Half Time Whistle
http://thehalftimewhistle.blogspot.co.uk/
Zach, a Atherton Colls and Burnley fan, tells of his visits in the North West. A great read
The Groundhog
https://thegroundhog.wordpress.com
From the Groundhog, another good blog,
Non League Matters

http://www.nonleaguematters.co.uk/

Useful site and forum
(wIth thanks to my good mate Russell Cox, for his help in compiling this list)

________________________________________________________________
THIS SITE LAST UPDATED: 14.JUNE.2015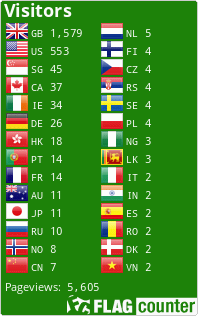 Since 00:00, 14th June, 2015