London Stadium - West Ham
My name is David, and welcome to my website, featuring my Football grounds/stadiums I've been to, both in the UK and overseas.

The grounds I like to visit are from the Premiership and Football League clubs, Welsh Premier League, Scottish Premier League and Football Leagues, and also Football Leagues from overseas. After each set of pictures from each ground, I am now adding small maps so you can see how to get there. More will be added soon.
I also visit Non League grounds (from around the UK) and "Lost Grounds" - Sites of old football grounds, which were once the home to League clubs*, but now either no longer there or just a mere shadow of their former self. Sites where the fans once stood, and where the cheers of the crowds, once loud and vibrant, have now become just a distant memory and have gone in the mist of time..
(* League - as in English Premier, Football League and Nationwide Conference, Scottish Premier and Football League)
On my travels around, I aim to get to as many football grounds as I can. I take in grounds from the:
English Premiership
English Football League
Welsh Premier League
Scottish Premier League
Scottish Football League
Overseas League Grounds
(I also like to take in visits to non-league grounds - See my Non League football: Grounds page)
Before anything else, a thank you. I'm not always able to get to a match, but it is nice to visit them all the same
Can I take this opportunity to say a big thank you to the various people at different clubs I have visited in the past, who have shown me such warm hospitality. It always makes a ground visit so enjoyable and leaves happy memories. I appreciate it very much.
CAN I RECOMMEND THESE EXCELLENT SITES
Football Ground Guide
http://www.footballgroundguide.com/
An excellent site - an invaluable source of information on grounds, league and non-league.
Ryan 147
http://ryan147.com/

The site that inspired mine, Ryan tells of his trips as a Chesterfield FC and Snooker fan
100 Football Grounds Club
http://100groundsclub.blogspot.co.uk/
Long time hopper Shaun, a Gateshead and Newcastle fan tells, of his footballing and beer visits.
Where's The Tea Hut
http://wherestheteahut.blogspot.co.uk/
Uwdi speaks about his football trips in the North West of the UK, with emphasis on the Tea Hut.
Groundhopping The Globe
http://phildanmatt.weebly.com/index.html
The groundhopping trio's visits to grounds all over the world, mainly UK, Belgium & Holland
Phil's 92 Tour
http://2philstour.webs.com/
Hops of the 92 Football League grounds and beyond.
Pie & Mushy Peas
http://pieandmushypeas.blogspot.co.uk/
Detailing hops going back many years, this site has some great photos too
Gibbos 92
https://gibbos92.wordpress.com/
Atherton Colls & Bolton fan Joe, tells of his visits, with a nice touch of humour
Football, Wherever it may be
https://laurencereade.wordpress.com/
Serial groundhopper Laurence writes about his footballing visits, as long as there is grass and 2 goals, he is happy
Up for the Cup
http://facupgroundhopper.blogspot.co.uk/
FA Cup Groundhopping
The Real FA Cup
http://therealfacup.co.uk/
Excellent site, with great articles on the FA Cup Qualifying Rounds
Tim's 92
http://tims92.blogspot.co.uk/
Wolves fan Tim writes about his hops to mainly Midlands clubs
Grounds For Concern
http://hoppysnaps.blogspot.co.uk/
Mishi's Ground Photos & Blog
Modus Hopper Random
http://modushopperrandom.blogspot.co.uk/
Graham Yapp's excellent blog, where he uses a variety of random methods to pick his games
The Half Time Whistle
http://thehalftimewhistle.blogspot.co.uk/
Zach, a Atherton Colls and Burnley fan, tells of his visits in the North West. A great read
The Groundhog
https://thegroundhog.wordpress.com
From the Groundhog, another good blog,
Non League Matters

http://www.nonleaguematters.co.uk/

Useful site and forum
_____________________________________________________________
~~~~~~~~~~~~~~~~~~~~~~~~~~~~~~~~~~~~~

​THIS SITE LAST UPDATED: 1 December 2018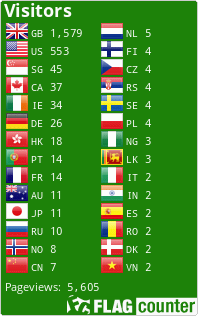 Since 00:00, start of 14th June, 2015